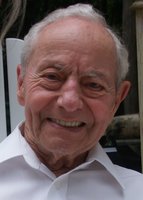 Arnold Fraser
Sadly, our father, Arnold "Arn" E. Fraser died on August 30, 2019 at the age of 94 years. Thankfully he slipped away peacefully at home, surrounded by family and friends. Arn is survived by his three children, Michael Fraser, Kimberly Mann (Richard Power-Fardy), Julie Nicholson (Colin Nicholson), his grandchildren, Jordan Landry (Cathia Landry), Patrick Nicholson (Rebecca Nicholson), Marcus Nicholson and his amazing great grandchildren, Addison Felhaver, Max Nicholson, Isla Nicholson and Maverick Landry. Arn was born and grew up in Bradford, Ontario. After serving briefly in the Navy toward the end of WWII, he graduated from the University of Toronto College of Pharmacy, moved to Ottawa, married the love of his life, Dorothy "Dolly" Fraser (nee Brewer) and they lived happily together until her death in March 2015. Arn worked very hard for many years as a pharmacist and the owner of Coulter's Drug Store, 289 Bank Street, Ottawa.
It was not long after Arn's retirement that he unfortunately suffered a major stroke which left him with some challenges. Arn was still able to enjoy life with Dolly, much of the time at their 'happy place' at Golden Lake. We have so many fond memories of family times at Golden Lake, everything from the mandatory daily bowl of porridge to the image of Dad taking long walks at the Lake to get the paper, never without a dog or two by his side...and sometimes a cat.
We are so grateful for the care that Arn received over the past few years as his Parkinson's disease worsened. The community support provided to Julie and her family helped them to keep Dad in their home until his passing. We would be remiss if we did not mention our gratitude to Dr. Gordon, the Champlain Community Care Personal Support Workers who worked with Dad on a daily basis and the Palliative Care Nurses from St. Elizabeth. A small family celebration of Dad's life will be held at a later date at Golden Lake. In Arn's memory, please consider a donation in lieu of flowers could be sent to Parkinson Canada, Humane Society or Arnprior-Braeside-McNab Seniors at Home Program. Arnold's final care has been entrusted to the Pilon Family Funeral Home and Chapel Ltd., 50 John Street North, Arnprior.