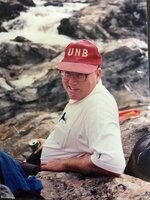 Bill McDonald
Near his beloved cottage in Woodridge, William Elkins McDonald, 81, passed away on Saturday, May 14, 2022, leaving behind so many memories he created for three generations of families and their children.
Bill was born on November 5, 1940, to John R. and Frances (nee: Elkins) McDonald, in Ottawa, Ontario, where he lived the first few years of his life. After Frances died in 1942, John later married Joyce Bourne of Ottawa and moved his family to Hampton, Virginia, where Bill attended lower and upper grades. Bill attended the University of New Brunswick in 1959, graduating there with a degree in physical education.
Bill was a versatile athlete specializing in cross country running and helped his team win titles for the University. He gained numerous life-long friends in Fredericton and beyond and is remembered for his generosity, both in his time to engage young people into activities and his sharing of whatever he could with others.
After graduation, he taught physical education in elementary grades in both Sunny Corner, NB, and in Buckingham, Quebec. However, his "home" was truly the family cottage outside of Ottawa. There he will always be remembered for his creation, oversight and documentation of the annual summer Land and Water Relay and Track and Field events for over thirty continuous years. He celebrated young people's successes with praise, ribbons and trophies.
Among our memories that hold their own stories: croquet, College Place, his rules, photographs, home movies, his full-throated laugh, canoe trips to the Falls, Mohr's Island picnics, swimming the river, music quizzes, his distaste for technology, his rotary phone, softball in the cow pasture, trips to Dairy Queen, and holey socks.
He loved his parents. His father was his mentor. He loved Canada and its outdoor beauty. He loved his vinyl records of the 1940s. He loved leisurely visits with friends and family.
Bill was the older brother to Tim, Johan, Judy and Diane. They will miss him greatly. They deeply appreciate the kindnesses of the Arnprior Villa, the nurses at the Arnprior and District Memorial Hospital and the Renfrew Victoria Hospital, the nurses and staff at Groves Park Lodge in Renfrew, and to his many loyal friends, especially Fred Gustafson ("Cousin Tibble") for his lifelong and true friendship.
Bill's final care has been entrusted to the Pilon Family Funeral Home and Chapel Ltd., 50 John Street North, Arnprior.
Family and friends are invited to a graveside service to be held at Whyte's Cemetery, Fitzroy Harbour on Sunday afternoon, May 29th at 1 o'clock after which Bill will be laid to rest next to his parents. The graveside service will be recorded and uploaded to our website Sunday afternoon for those unable to attend in person.
In remembrance, Bill would want you to take a walk in a forest, listen to a favorite old tune, or enjoy a hearty laugh with a friend. Thanks for the memories, Bill.