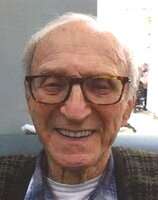 Frank Loeschnik
April 14, 1930 – May 25, 2022
Our father, Frank (Franz) Loeschnik passed away at the Arnprior Grove Nursing Home on Wednesday, May 25, 2022, at the age of 92 after a brief illness. Dad was born in Zwartzberg, Belgium and lived in Russia and Austria. In July of 1953 he immigrated to Montreal to join his brother Rudy and eventually was hired at Union Carbide. Our Dad met our mother Renate (nee Wistuba) at the German/Canadian Club, fell in love and married on May 28, 1955. Our family moved to Arnprior in 1965 after Dad was appointed to start a process control group at Union Carbide (now Nylene). He retired in 1990 as Senior Process Control Supervisor. Until early 2020, our parents lived in Dochart Estates in the house our father built. Dad was proud to call himself a Canadian and felt Canada was a free and generous country that was welcoming to everyone.
Our father will be greatly missed by our mother, his wife Renate (Wistuba), his daughter Ingrid (Tom Stack) and his son Thomas (Patricia Bouchard) and his only (and best) granddaughter Rachel (Nick Bromfield and children Tanner, Hillary and Kayden). He is predeceased by his brother Rudolph (Rudy) and survived by his sister-in- Marianne Loeschnik and children Robert (children Emma and James) and Hilary (Corey Sullivan and child Lena); predeceased by his brother Karl and sister-in-law Ina and survived by children Michael and Inger and their families; and survived by his brother-in-law Peter (Carol) and son Guenter Steven (children Bianca and Anton).
Dad was devoted to his family and loved nothing more than being with them. He was always eager to spend time with his granddaughter. As a child, Rachel spent many happy hours in the backyard of their home chopping wood with her Opa. Dad was a consummate woodworker and made much of the furniture that adorned their home in Dochart Estates. He also built armoires, coffee tables and built-in furniture for his children. He was always eager to impart that knowledge to his family, telling us not to work like the "ersten mensch" (the first human). His son Tom became quite a carpenter and handy man under his tutelage, and he spent many hours with his daughter Ingrid teaching her to sand and stain furniture when she retired.
Heartfelt thanks to the wonderful staff at the Arnprior Grove Nursing Home for their incredible quality of care and affection, particularly in the last days of his life.
Those wishing to do so may make a donation to the Arnprior Grove Nursing Home.
Friends are invited to join the family for a graveside service to be held at the Malloch Road Cemetery, Arnprior on Monday, June 6th at 11 o'clock.
A Celebration of Life will be held at a later date.