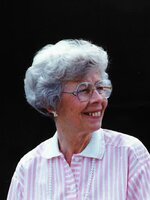 Gladys Naomi "Nonie" Henderson
(nee Dudgon)
November 15, 1925 – June 19, 2022
With sadness the family announces that Nonie passed away peacefully, with family by her side, at Red Oak Retirement Residence in Kanata on Sunday morning, June 19, 2022, in her 97th year. Beloved wife of the late Nolan Henderson (2003). Cherished mother of Myles (Jacqueline Samson) of Arnprior and David (Diane Trudel) of Ottawa. Much loved grandmother "Nana Nonie" of Stephen Henderson, Kelly Henderson (Thurston White), Devon Henderson and extended family Denise Abrantes. "Great Nana Nonie" of Lucas, Dani, Montgomery and Rory. Special aunt of Julia Codd and Michael Codd (Sylvia) and great aunt of Richard Codd. Nonie was predeceased by her loving sister, Doreen Codd (late John). Daughter of the late Ernest and Esther (nee Oliver) Dudgon.
Nonie's care has been entrusted to the Pilon Family Funeral Home, where a private family service will take place.
Nonie Henderson was of a generation who lived by their word and did not give up easily. They finished what they started and kept their complaints to a minimum. They, "The Greatest Generation," were private people; their stories usually went untold.
Nonie Dudgon was born in Wolverhampton, England November 15, 1925. Her mother, Winnifred (Winn) Oliver was from Newtown Wales; her father Ernest William Dudgon was a successful businessman in Wolverhampton. Mom had an older sister Doreen and, although they lived thousands of miles from each other, they remained sisters in heart and thought for almost 90 years.
In 1939 Nolan Henderson enlisted in the Royal Canadian Air Force. He took his pilot training in Trenton, Ontario. Shortly after he was posted to England and was assigned to 400 Toronto Squadron where he served as a reconnaissance pilot. Nolan flew Mustangs, and Tomahawks and photographed German Troop and railway movement in France, Belgium and the Netherlands.
While stationed in England, he met Nonie. They were married in December 1944. In 1945 Mom crossed the U-Boat-infested waters of the North Atlantic in a convoy of ships arriving at the now famous Pier 21 in Halifax. Mom was one of almost 48,000 war brides who would start a completely new life in Canada. For many years, the only communication with Nonie's family in England was monthly air mail letters.
After the war, Dad remained with the RCAF. To David and myself, it seemed like we moved every year. We lived in cities across Canada as well as England, Germany and France. Throughout, Mom (Nonie) was our point of reference, our standard of excellence, our place of comfort! Mom packed and unpacked and set-up and, after a few weeks of upheaval, life would return to normal. New house, new school, new friends … but … same warm love, same tasty meals, same clean beds and lots of laughter. Mom was our beacon to a safe place!
In 1975 Dad retired from the RCAF and they moved from Ottawa to Qualicum Beach, British Columbia. Nonie was a quiet but active member in church groups and a needle craft organization. She developed an interest in several areas of Canadian Politics. She volunteered for the Canadian Cancer Society and was also a busy gardener and, as mentioned, a fine cook. Finally, Mom was the 1st mate and, for that matter, the entire crew whenever Dad went salmon fishing.
In 2003, after a short illness, Dad passed away. David and I are so very proud that at the age of 78 Mom successfully took over managing her house, her finances and her garden. She regularly attended church and continued to be an active member of her needle point club. She met five lovely ladies, "The Birthday Girls," they bonded and laughed and shared their ups and downs. They remained an important part of Mom's life long after her move to Kanata.
In 2012, following a heart attack in church, (Mom's doctor was in the pew behind her … how's that for fate) Mom agreed to move to the Red Oak in Kanata to be closer to her family. Nonie continued to be active during her early years in Kanata but slowed as her health declined … up until the pandemic. 30 months of COVID isolation slowly began to take its toll. Mom's mobility suffered and she became less active; her health declined. Nonie passed peacefully, with family members by her side, on Father's Day.
We will forever remember Nonie, Mom, Nana Nonie as a loving wife, mother and mother-in-law, a wise grandmother, and gentle great-grandmother and great-grandmother-in-law. She was polite, articulate, interested and accepting to the very end. In sickness and in health Nonie remained an inspiration to our family. We will miss her sparkling eyes, dry sense of humour and gentle kindness every day … she was, as they say in England and Wales … "just lovely!"
Myles & David Henderson and Families