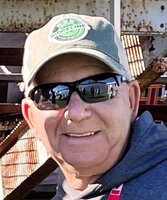 Kevin Noffke
Born March 12,1955, Kevin Gregory Noffke came into this world with a charming smile on his face and a twinkle in his eye. He left us too soon for his final road trip. With no discussion, or family huddle, he slipped away on Monday, July 18, 2022, holding his beloveds hand! COVID was over and he had plans; he was ready to hit the road, destination unknown.
Kevin was never anything but authentic and never more comfortable than when he was working away in his Carhartt coveralls, work boots and Maui Jim sunglasses. He would get all "dressed up" in this Under Armour sweatshirt or his hockey jersey to go and watch his beloved grandchildren play hockey or figure skate.
He met his lifetime partner, Dale, at the age of 16 and they were married for over 47 years. He was extremely proud of his family, only ever wanting the best for Jennifer (Colin) and Alycia and his cherished grandchildren Grayson and Rylee.
Kevin will be remembered for his generous spirit; always participating in any adventure, any gathering, any job that needed to be done, or any mischief that was being planned.
And....It would be remiss of us to not mention his lawn cutting prowess. The neighbourhood never looked so good as to when he and our 'neighbourette' would be competing to see who completed the task first.
Always one to accept a challenge, he was also the quintessential Mr. Fix-it. Aided by technology, there wasn't anything he couldn't fix when he set his mind to it; even a washing machine the day he went into the hospital. "Mom needed the washing machine."
He was predeceased his parents Walter and Dorothea Noffke, and his sister Wendy. Dearly loved by his brother in law Randy Bilz and their sons McKerrow, Ben, Kylie and Sterling and their families and his brother Mark (Tammy) and their daughters Anna and Lindsay.
A special shout-out goes to his two "brothers-from-another-mother" Desmond Schrie and Murray Dole. They played such a special part in his life and our family's journey. He truly honoured their friendship.
Final care entrusted to the Pilon Family Funeral Home and Chapel Ltd., Arnprior.
A service is planned for Thursday, August 4th, 2022 at 3pm at the Melville United Church on Victoria Street in Eganville, Ontario. A Celebration of Life will take place at a later date.
Kevin left us far too soon, following a very brief battle with Pancreatic Cancer. If you wish to honour him please consider making a donation to your local Food Bank, Connected in Motion, or the Pancreatic Cancer Canada Foundation.